Ever get something…. and the more you read it, you say to yourself….  Yes.  Yes!  YES!  This exactly what I have been looking for!!

   That was my experience after receiving and reading Before Five in a Row.  I kept reading and reading, becoming more excited with each turn of the page.  I almost wanted to hug the book!  It was exactly everything I wanted Pre-School to be. Relaxed. Delightful. Inquisitive. Fun.
Before Five in a Row is designed for children ages 2-4.  It takes great children's literature and weaves activities built on each book, into your everyday activities. 
When my now High School children were in Kindergarten, they had a teacher who was amazing.  I remember sitting in the back of the class, watching in wonder at all the activities she could squeeze out of a book.  It is something I knew they had to teach you in teacher's school, and it was something I longed to recreate in my own home, but was never quite creative enough to pull it off.
Fast forward 12 years and 2 more kids later and I was blessed with this great book.  It was the most amazing "AH-HA!" moment for me.  I suddenly had the perfect tool to squeeze great fun out of a book.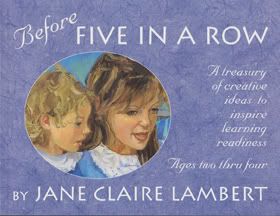 Jeremiah, age 4, was my primary helper in experiencing this product.  I dare say he loved the fact that we set aside time to read and play a couple of times a week.
Our first book we read was Jesse Bear, What Will You Wear? by Nancy White Carlstrom.  While we read this book over and over for a week we looked at the pictures and talked about the changes we saw in the time of day.  We talked about colors, patterns, and combinations.  Not just in math but in our clothes.  We will not talk about the Sunday I let him pick his own Combination of clothes and he wore a blue polo shirt with a gold striped tie….LOL… 
The next book we explored was Blueberries for Sal by Robert McCloskey.  This book came along the week we were learning about the letter 'B'.  Pretty neat huh?  Cuz' I am the mom I can schedule neat stuff like that…
.  The bonus part of the deal was that blueberries were on sale at the Farmer's Market so we had a flat of our very own berries to play with.  We ate them while we read.  We added them and subtracted them while we ate them.  We talked about bears, and mountains and bushes.  Mommy drooled over Sal's mom's kitchen stove….but that had nothing to do with the fun we had with this book.
In addition to being a book that offers lots of interesting ideas to help bring literature alive by nurturing the innate curiosity of little ones,  Before Five in a Row has an amazing Part Two, to the book.  I like to think of it as the Teacher's Manual to early childhood learning.  It is crammed full of ideas that will help your child learn through creative, yet mildly directed, play.  Ideas for Poetry, Music, Large and Fine Motor Skills.  How to incorporate learning into a trip to the Store…. and so much more.
I absolutely and completely recommend this book to anyone with a child Kindergarten aged and below.  I only wish I had known about this book years ago so that Hunter (9) could have enjoyed it when he was younger.  ( He does play along with us when we read and do some of the games though….sshhh just don't tell his friends)
If you would like your very own copy of this book.  It can be found exclusively offered at Rainbow Resources. The cost is $35.00 and for the many years you will use this book, I find the price to be quite fair. 
Just in case you are worried about finding all of the 24 books that are listed within Before Five in a Row, I can assure you that they shouldn't be hard to find.  I was able to find the majority of them at my local library for no cost at all.  If you would like to purchase these books for your own home library, here is a reasonably priced list.
Visit the Five in a Row website to see the great products that they offer for older children in their Five in a Row, and Beyond Five in a Row curriculums.
Never take just my word for a homeschool product that you see on my blog.  Many families spend time with these products.  Stop by The Old Schoolhouse Review Crew blog and see how this product worked or didn't work, for them.
See you soon!  Happy Schooling!
****disclaimer****
We were given a copy of Before Five in a Row, free of charge, in exchange for an honest review.  No other compensation has been received.  I am under no obligation to love their product, or gush about it endlessly.