Welcome to Professor In A Box. A unique college learning program to help you or your child take college level courses at home. For this review, I used Principles in Marketing on my own as well as with my High School students. Let me see if I can apply what we have learned in Chapter 1 and use the Value Proposition to create customer value and use my relationship with you to help market this product.
As you can see, I was paying attention.
Principles in Marketing is a great way to get a head start on college for your High School Student.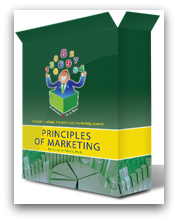 Your child doesn't need to be at genius level to begin this course. A basic High School skill level in reading and math is sufficient. We have enjoyed working through this program, and will continue to do so through this year.
I have a child graduating high school this year and one that is dual enrolled at our community college right now. Have you seen the cost of community colleges? I won't even go there on the cost of Universities. They did not cost that much when I went! Principles in Marketing is available for $199.99 and after finishing the course, the creators say you will be able to CLEP test for college credit. Let me see if I can create some value for you here. I looked up the cost of a Principles in Marketing class at my local college. It is a 5 credit class. The cost of 1 five credit class for one quarter…… is $550.50. eek!! Even if you factor in the cost of the CLEP exam, purchasing this course, to take in the comfort of your own home, at your own pace, keeps $345 in your pocket when compared to a brick and mortar community school. Saving money is something that creates value for me, does it for you?
As I worked through the program I appreciated Dr. Julie Pirsch, Ph.D's calm, easy speaking manner. The slides during the presentation were clear and easy to read. If you missed a thought or concept you could back up and listen again. In person, professors don't have a rewind button! This was an especially helpful feature in our home because little brothers tend to be noisy and even with headphones on, you can miss a few sentences.
Another feature of the program is the interactive Online Resources. After listening to a Lecture, you are encouraged to go visit a few websites and see examples of what has been just discussed, in action. The program also has Quizzes to help you assess progress with each chapter.
I really feel that the course is comprehensive in it's scope and reaches out to a market that is wider than just the High School or College Student. It could be a great assistance to the middle school-er starting their own business and wanting to learn how to market themselves as the greatest lawn mower in town. It would be important to adults who market their creations on websites, or their services as a virtual assistant. If you were starting up a new business or maybe you are an owner of an existing small business and want to ensure success, this course would set you on the right track.
Professor in a Box has other courses available through their website http://professorinabox.com/. Or you may contact them via mail, phone or email.
Professor In A Box
212 Dory Drive,
Ocean City, New Jersey 08226
609-425-7090
Email: info@professorinabox.com
If you would like to see what other families are saying about this product please visit the TOS Homeschool Crew blog.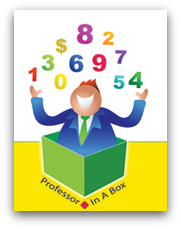 ……. and when you figure out how they get those professors squished into the box…will you please tell me ????
******disclaimer******
I received Principles in Marketing course from Professor In A Box, free of charge, solely for the purpose of this review. No other compensation has been received. All of the above opinions are my own.