I have a confession to make.
My confession will help you understand this particular review. I am supposed to be honest with you, a transparent homeschooling mom.  I need to get it off my chest……….  I homeschool and I don't teach Latin.
There.  I've said it.  Now you know my dirty little secret.
Wait! there is more!……  if you don't understand this about me…. you are not fully going to grasp what I have gone through for you, to bring you this review.  I shall explain.
TOS crew members have a very small voice in the items that we receive for review.  We are asked to comment on our level of interest for various products.  Then the review coordinators make the final choice, based on what best fits the vendor's needs.  It is hard work, I don't envy them in their decision process.
My level of interest comment about Latin review products went something like this:  "I would rather chew off my own arm, than try to teach Latin.  I can't pronounce the words, it is miserably comical to watch. Please spare me and my children and choose someone else for this review.  However, if you need me, I will endure…"
Guess what?  The people that pick reviewers, have a wicked sense of humor and I received a Latin product to review.
When the package arrived in the mail, I whined, OH how I WHINED to myself, and now I will come clean and tell you about it, beyond whining……  I moaned. I had a "why me?? why must I be tortured" party…..
……and then I took a deep breath, put my big girl panties on….. and plugged in the DVD.  It was ten lessons.  How hard could ten lessons be?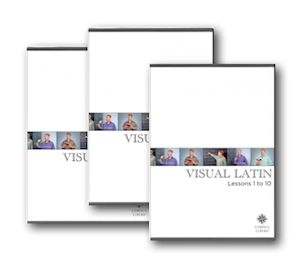 Such a nice young man greeted me.  He spoke with a sparkle in his eyes about Latin and why it was important to learn.  I had to fight the initial urge to think he was crazy.  My experience with Latin was far different from what this man said.  My experience with Latin was painful, time consuming, and embarrassing.  How could it be possible that it was really important?
With my big girl panties firmly in place……. I listened on……..  I will to give this program a fair shot, I will give this program a fair shot….. it has become my mantra.    It isn't their fault I am allergic to teaching Latin.
I plug on through Lesson 1A.  Verbs, the State of Being kind….  ok… good to know….. Lesson 1B… Sentences….. a crowd is beginning to gather behind me on the computer.  Hunter who is 9 has ceased doing his Math and is repeating after Mr. Bright Eyes on the screen.  Did he understand that?  Evan and Tayler, in High School are laughing softly at his jokes.  Jeremiah (4) is saying Deus est bonus….  while driving his racecar across my lap. Hmmmm…. the kids seem to like it…. why is it I was allergic again?
Lesson 1C…. reading Latin… what?  you tell me one verb, toss me a few paltry sentences and now you want me to read it?  I think the Southern humidity (umidus) has fried this poor man's brain!  And then he tells me that he is going to quit speaking ENGLISH?  oh here it comes…. this is why I was allergic.
What was my mantra again???
Lesson 2…. I shall press on. Set up is the same…  grammar, sentences and reading.  He is still speaking English….  this is good.  He is on to predicate nominatives, and predicate adjectives….  something I barely understand how to teach in English.  This is a bonus…. grammar lesson and I didn't have to teach it.  Bellum. (beautiful) Wait? Did I just think in Latin?  Weird.  How is this possible after only two lessons.  Kids are still crowded around, still engaged…..  still chortling at very silly jokes…..
And so it went as we skimmed our way through the DVD.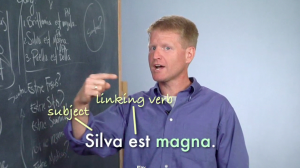 My mind is beginning to change on the possibility of incorporating Latin into our studies.
When we began again, as actual lessons during the week, we would watch a section and do the worksheet that was provided with it.  They are right there as a PDF on the DVD.  Pop it into your computer and print them out.  Very easy to do.  No one struggled.  No one whined….  I didn't have to invent the way a word sounded….. it was all there on the DVD for me. If we didn't get it… we went back and watched again. The kids were translating words within the very first page.  This program really gets them THINKING in Latin.   It was great!  (wait? did I just use GREAT to describe the teaching of Latin?)
So, if you are like me, and currently suffering from metus lingua latina (aka. Latin freaks you OUT!).
I highly recommend Visual Latin.  The creators are not joking when they say your child will ask to do their Latin.  Mine have, and still do.  They love it, even if you as the mom have no clue where to begin teaching Latin.  They guy on the video does!  He teaches for you! Painless, easy, non-time consuming….ahhhhhh…..
They offer a few Free Lessons, so you can see what it is like…. a try before you buy sort of thing. I would say that you could use lessons 1-30 as a High School level course.  But don't limit yourself to only letting your High School students use it.  My 4 year old watched with us and learned Latin.  He didn't do the worksheets, but he will when we review it again when he is older. My nine year old did the worksheets along with the videos and he walks around the house muttering sentences in Latin all day.  Good thing I watch with them so I know what he is saying….haha.   Visual Latin is for the WHOLE family.
They have lessons available for Download  or in DVD format like I received.  They even offer a live class.  Every option has worksheets that go along with it to help cement the lesson your child just watched.
Pricing ranges from $25.00 to $115.00 so please check their store out for the option that best fits your family budget. http://store.compasscinema.com/categories.php?category=Visual-Latin  If you ask me…. $25 is a heck of a deal!
If you would like to contact the company directly with more questions about how their program works, you can find them at:
The Compass Store
609 West Iris Drive
Nashville, Tennessee 37204
or go here for their email form.
I am sure there are parents out there who aren't allergic to teaching Latin, who didn't need to confess to the world their inadequacy in this area, when all the homeschoolers around them seem to just LOVE Latin…..  to read those parents reviews of Visual Latin Lessons 1-10, please visit the TOS Homeschool Crew page.
***** Disclaimer*****
As a member of the TOS Homeschool Review Crew, I received a DVD copy of Visual Latin Lessons 1-10 from Visual Latin, free of charge, solely for the purpose of this review.  It really has changed the way I view teaching Latin.  All of the above experiences and opinions are my own.  No other compensation has been received.