I stumbled onto a book the other day…… Educating the WholeHearted Child by Clay and Sally Clarkson.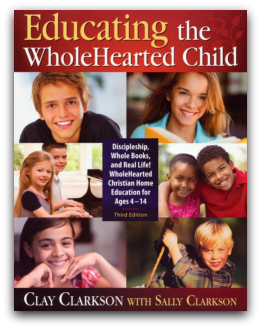 This is what I read from the apologia.com website:
Educating the WholeHearted Child is about much more than homeschooling; it is about life. Effective Christian homeschooling must begin with the sure foundation of a Christian home.
That resonated with me. In our house, homeschooling IS life. It is what we do, how we behave, it is one of the major things that define our family. Our goal is to have that strong foundation of the Lord.
….but homeschooling is hard too, anyone that says it is easy, might not be telling the truth! …. and some days I just need to sit with a book and have some encouragement to hold onto. I think this book might just be the ticket. It so blesses me to read how other successful homeschoolers have survived!
I just wanted to share what I found with you, because maybe you have days that need encouragement too.
Educating the Whole Hearted Child by Clay and Sally Clarkson , is available directly from Apologia.com, for $22.00.
If, like me, you decide to go and get the book…. wander around the apologia.com website for a bit. It is FULL, I mean crammed full of great resources!
To read a review of this book you can visit the TOS Homeschool Crew Page.