We have an artsy sort of family… My Husband was accepted to art college and joined the military instead. (long story… I will spare you the details.) I am a crafty gal… cards, ornaments, entire rooms covered in paper vines….. (an equally long story). I have one that makes jewelry, one that sings and writes music. Hunter likes to draw, I just don't know how to teach it. Or, didn't rather, until Artistic Pursuits came along.
For awhile, my husband taught an "art" class one night a week to the kids and their cousins. It was pretty cool. They loved it. Since then we have just muddled through art. Usually, our 4th grade art is comprised of drawing elaborate battle scenes, bullets whizzing, helicopters flying, and blood oozing from anything that was unfortunate to meet with said whizzing metal objects. It seems to me that Sunday Service , and the desire to do anything but sit still, is the time of utmost creativity among 9 year old boys. I realize that this time is not the most ideal time to teach art…. I can't really stop him and remind him to use contrast, line and shape properly…. so, I just let him go. Half the battle in teaching Art is getting them to just let stuff flow onto the paper.
Since things have changed and we don't really have an available day for the hubster to be the art teacher, I have been looking at various curriculums to teach with. Artistic Pursuits stumbled onto my radar when I was asked to review their product for 4th to 6th Graders (Book One) The Elements of Art and Composition.
When I first flipped through it, it reminded me of the projects I had seen happily hanging on the walls of the art studios of my youth. Texture, value, contrast, line, form, shading, balance, depth….. each lesson giving much room for creativity, while providing well drawn examples of the concept. Not just teacher drawn examples, but ones from fellow students. I was inspired… I wanted to get my sketch pad out and go through this book. Hunter loved this program. I should have installed a meter in is mouth to count how many times he asked me if it was art day…. can I do art…. where is my art book.
I liked how the supply list was easy… pencils, a vinyl eraser, sketch pad, scissors, glue sticks, a couple of graphic markers… Nearly everything on the list we already had here at the house. Each unit was easy to follow and took about 2 weeks to complete. We did 2 lessons a week, meaning we use the book twice a week, the drawing happened almost every day. Hunter was eager to practice the new skills he was learning. You know how I knew he was learning? His Sunday morning battle scenes began to change. They had smoother lines, more texture, depth was being created with the use of shading…. I will admit it. It was cool.
I will also admit that I am a wee bit excited to move on to Book Two next year. It is about Color….. messy, wonderful, color….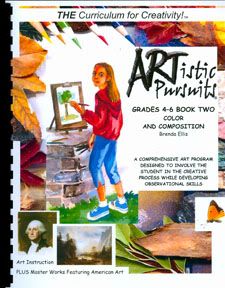 Each of the books produced by Artistic Pursuits, are non-consumable, that means you buy each book once and be able to use them year after year with child after child. Priced at $42.95 the book we used was comprehensive and I feel it was affordable for a year long art class. Each book contains more than just lessons on technique there are pages with Art History and mini bio's of the artists.
The people at Artistic Pursuits have created lessons for the whole family from Pre-K up through the High School years. If you are an adult wanting to learn to draw follow along with the kids, I am sure you will enjoy the lessons like I have. Visit www.artisticpursuits.com to find out more about all the great products they offer.
TOS Crew members reviewed a wide variety of products by Artistic Pursuits visit the Crew Blog to read about the curriculum nearest to your child's grade level.
***Disclaimer*** I received a copy of Grades 4-6 Book One The Elements of Art and Composition free of charge, solely for the purpose of this review. No other compensation has been received. All of the opinions expressed above belong to the family members who were involved with reviewing this product.