This was our family's second opportunity to review Kinderbach, an amazing way to learn Piano at home.
We really just have a great time learning piano this way.  Our primary reviewer was Jeremiah, he is Four and a perfect fit for Kinderbach's target market of 2-7 year olds.
This is the most gradual learning product I have ever seen marketed.  It is broken down in easy to understand video lessons that are great at keeping the attention of young ones.  It slowly builds on the previous lessons until there is mastery of the notes and the different rhythms of each type of note. It does more than teach piano, it teaches music.
We enjoyed the multi-sensory approach to Kinderbach's teaching.  Jeremiah sees the lessons, hears the lessons, can write or draw in the Lesson Books,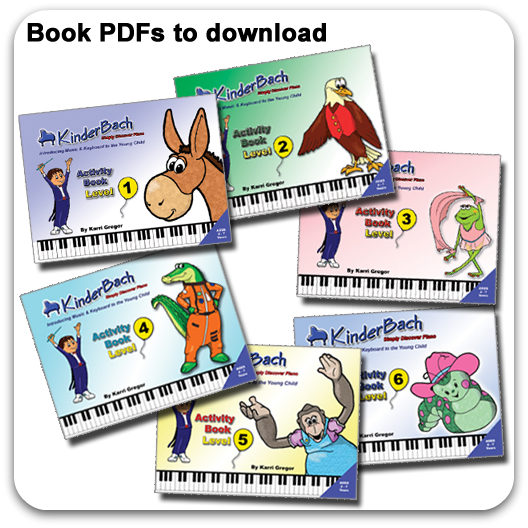 and he uses his body to clap, stretch, stomp, and wiggle to the different rhythms of the notes.  My older son also finds the names of the Notes being taught as characters, help him remember where they are, as he practices his more traditional piano lessons.
The one thing we found hard to do was, play along on the piano with the lesson.  Our family computer is a desk top and the piano is in the next room.  Last year we had a laptop, and it was easier to just hook that up wirelessly in the next room.
I think that this program would be a great investment for a homeschool co-op. It would be a wonderful way to create a class for all the younger siblings to attend while their brothers and sisters learn other subjects.
I am excited to tell you that Kinderbach is making their product available on multiple mobile devices.  Lesson one is fully compatible with the iPad.  It makes me wish I had an iPad so I could have used it!
Kinderbach is very affordably priced at $20.00 a month for all 7 levels of their music curriculum.  Visit their website to learn more about their DVD product and their yearly pricing for home use and for school use.
You may access a 30% discount when you purchase Kinderbach at Home.  Use the Product Code:  TOScrew2012  This discount is good until 2/2/2013
Make sure you check out the other reviews at the TOS Homeschool Crew Blog and see how other families used and enjoyed this product.