This could be what you were thinking as you were skimming for curriculum and came across the title The Art of Argument:
"Really? I mean, have you heard them lately?  I don't think they need much practice……. They argue nearly every moment of the day!"
To fully understand the title of this book, you must read the rest of it…… an Introduction to Informal Fallacies.  This book is much more than the squabbles over who is going to play with what toy, or sit in what seat in the car.  The arguments discussed in this book are very much about instilling a love of logic and critical thinking.
I will admit, that logic and critical thinking were not a subject covered formally in my middle school years, at least not at the private school I attended.  It was however covered very informally with my dad.  He would take me places and introduce me to things, for the express purpose of thinking critically about it.  He WANTED me to pick business presentations apart and have me tell him where they were flawed.  We would discuss the way a presenter tried to sell one point or another; all the way home.
The book, The Art of Argument: an Introduction to Informal Fallacies, is just like those moments with my dad, it uses scenarios and advertisements from newspapers and other media, to teach your child to think critically about all the images and audio they are bombarded with each day.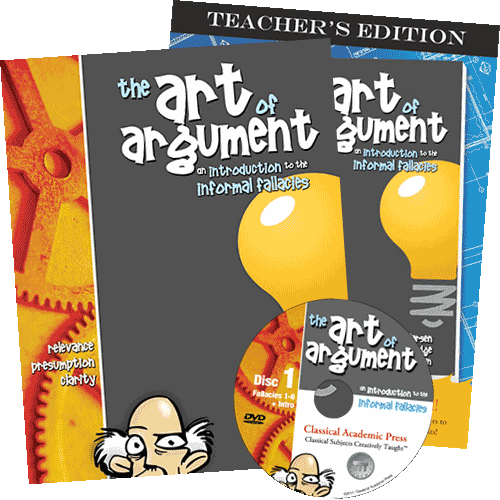 It is written clearly and is very easy to understand. As I read through  the Teacher's Edition I didn't end up dazed and confused wandering the house with glassed over eyes, wondering what it was I had just read.  I understood it, and felt empowered to explain the concept to my 4th grader.  Yes, you read that right, 4th grader.  This book is marketed to Middle School children grades 6-8, however, with just a bit more conversation, and less book work, we made it very easy to understand for my 4th grader.  We review what we have learned as we shop around town.  We read billboards and ads in magazines as we are waiting to check out, and try to remember what fallacy they are representing.
Hunter also liked the Disc 1 that Classical Academic Press included as a sample of their DVD set.  It is a round table discussion on the fallacies that are discussed in chapters 1-6.  Since Hunter is such an audio visual guy, having this as a resource was wonderful, he could watch it over and over, each time absorbing more and more information, similar to when he watches the same television program 700 times.
I would offer up to you that if you choose to use it with younger children to take the information slowly, teach it in bite sized chunks twice a week, and talk about it often when you see something that would be an example in real life.
Pricing: Always make sure you check with their website for any special pricing.
Student Text: 21.95
Teachers Edition: 24.95
DVD Set (5 discs, covers whole book) : 54.95
Bundle (Student and Teacher Text + All 5 Discs) : 88.95
Watch a Sample video about : The Straw Man Fallacy
Make sure you visit the TOS Homeschool Crew Blog to see what other families are saying about this product and Argument Builder, both from Classical Academic Press.
******
Disclaimer:
As a TOS Crew Member I was given a copy of the Student and Teacher Text and Disc 1 of the set, free of charge for the purpose of this review.  No other compensation has been received and I am only asked to write an honest review of the product.