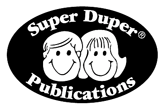 I know I am the only parent with a child that "doesn't listen". I am convinced that I am the only parent who tells their child to do three things and they can never remember the list, they somehow thought I said play with your Lego's between pick up your room and bring out your dirty laundry, and go outside between finish your math and empty the dishwasher!
Wait…….. What was that? That happens at your house too?
I am so relieved! I thought it was only me!
Now that I know you share my angst over a child who has trouble following a list of instructions…. I am very happy to share with you a great game that will help your child build and improve their verbal recall and auditory comprehension.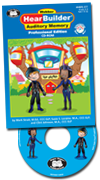 Hear Builder Auditory Memory Game is a fun way to build listening skills. Created for optimum use by the K-8 crowd…. in our house we found all age levels, even dad, crowding around the computer to watch and play. We reviewed the HOME EDITION of this game and it is available for purchase for $69.95.  You can use the Home Edition CD-Rom game with up to four students, and customize each one's level of play.
Hear Builder works in five different skill areas, it will develop skills in the following areas:
Memory for Number ( 3-7 digits )
Memory for Words ( 3 – 5 words )
Memory for Details ( 1-4 details )
Auditory Closure ( sentence completion)
Memory for WH  information ( those who, what, when, why, and where, questions, 2-4 sentences/ 2-4 questions)
Playing this game has given Hunter some tools to help him remember long strings of numbers,  He really likes all the word games and I have seen great improvement in his predictive reading skills.  We learned that he remembers his number sets better if he sings them.  Both the Word games and Number games come with Memory Strategies that will build confidence and skill as your child uses them.
When I told him that we were going to be reviewing a game that helped build listening skills, he balked.  He looked at me and with his razor sharp wit, sarcastically bantered, "You asked for this so I could listen and obey better, didn't you?"   To which I replied, "No, but I am hoping it is a glorious side effect."  In true pre-teen fashion he rolled his eyes at me and began to play the game….. his first session lasted nearly an hour and a half.    It sucked him in and he forgot it was a learning game.
He enjoyed himself so much! I have heard him shout " I am a lean, green, listening machine!"  as he gets levels correct, and moves through the game.
One cautionary note to parents who may start with an older child.   Do not set the level of play in the game to all levels.  Hunter was frustrated at about level 13 in the numbers game when we did that.  I went in and created a new player with a beginner level, and the game was much easier for him to adjust to.  Make sure you start slow so you don't frustrate your child on the first day.
If you are looking for a self paced, non threatening way to build your child's verbal recall skills,  Hear Builder Auditory Memory Game is my recommendation.
To receive a 30% discount on Hear Builder Auditory Memory Home Edition follow this link and enter the following coupon code. http://www.superduperinc.com/products/view.aspx?pid=HBHE366
Coupon Code:       BLGAM30            Coupon Expires 8/31/12
Many of my fellow Crew Mates reviewed different products from Super Duper Publications.  Please follow the link below and see if there are other products that may bless your family as you homeschool.

***Disclaimer***
I received a copy of Hear Builder Auditory Memory Game ( Home Edition ) free of charge, expressly for the purpose of reviewing this product.  NO other compensation has been received.  All of the above opinions shared are a result of using this product in our homeschool environment.