I was very excited to try Samson's Classroom with Jeremiah, my 5 year old.  He is in Kindergarten and an eager student. As I previewed the site and signed him up, it looked colorful and fun, with interesting characters to lead you through the games.  I thought for sure he was going to jump at the chance to better develop his reading skills with this educational site.
As much as I tried, this site never seemed to really pull him in. ……….But, it doesn't mean that I don't think the website isn't great, it just means that my kid didn't love it to pieces like I thought he would. He used it but he never seemed eager.  He never pestered me to let him play it.  Over the years I have learned that when the boys seem to disconnect from a curriculum or website, it probably just isn't a fit for our family.
Jeremiah seemed to gravitate to the sight word games the most.  I have a feeling that is because the boy is a lover of any sort of matching game, and the sight word games were full of matching.  The Spelling Games he wasn't really ready for in Kindergarten; perhaps as we progress through Kindergarten that portion will interest him more.
I really enjoyed the fact that I could access it through my Android Phone.  Not with an app, but I was able to access the website through my browser and the games were fully functional, making waiting for piano lessons to be over, a much more pleasant experience!
Let me share with you what the site offers so you can see if it might be a better fit for your family. 
Samson's Classroom is a reading software program designed for those in grades K-5.  It uses sight words to build reading skills and games to help with sight word recognition, spelling, and reading.

The Sight Words games use the 224 most common words in the English language to build reading fluency for beginners.  It is also helpful to older readers who need a bit more encouragement and practice. The games are quick and not too difficulut for even the youngest student. ( I still use sight word training with my 5th grader!)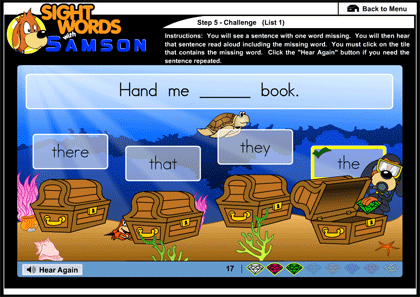 Spelling Games is a customizable spot for parents.  You can enter in your own spelling lists and you child can practice them with four different games OR you can use their pre-set lists to build spelling skills.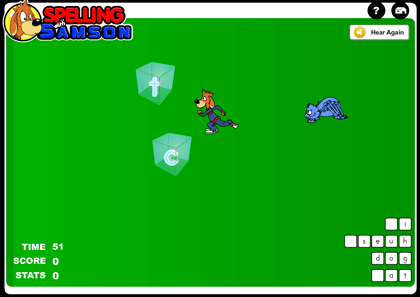 The Reading Area works on comprehension, comprehension, comprehension. We all know how important it is to actually understand what the words we read are saying!  For the youngest of students this section could be used as a listening comprehension section until they are better able to read each selection on their own.
Pricing is very resonable for those of you who are looking for a very inclusive software to help with fluency, comprehension and spelling skills.
I hope you will watch the video on the Samson's Classroom home page. Please take the time to read a few of the other reviews my crew mates wrote on this product.  Many other families used this product in their homeschools and maybe there is a family out there just like yours and their kids LOVED IT! 
*****Disclaimer*****
I received access to Samson's Classroom free of charge expressly for the purpose of this review.  No other compensation has been received.