Last year, I had the opportunity to review an amazing reading tool by See-N-Read®.  This year I was able to review another product in the See-N-Read® family of products:
The 40-page, See-N-Spell™ booklet.It is SOOO cool!
It is designed to be easy to use and is broken down into three alphabetized categories:
Most Commonly Used Vocabulary Words
Commonly Misspelled Words
My Special Interest Words
Hunter simply flips to the page showing the first letter (a,b,c, etc.) of the word, then scans down the page to find the word he is looking for.  Then he can copy the correct spelling right into his work.
With the help of the See-N-Spell™ booklet, Hunter has been able to use a wider variety of words in his sentences.  We use it often at Spelling time when he needs to write sentences that include his spelling list.  I really like the fact that the book includes homophones on the pages.  Those tricky words that sound the same but are spelled so differently, are paired with small definitions so that Hunter can chose the one that fits best into his sentence.
While the See~n~Spell Booklet contains many commonly used words, it also leaves room for you to write in it.  Yes, they want you to WRITE in your books!  There is a space for you to write down words that YOU or your child constantly struggle with…the My Special Interest Words, section. I will let you in on a secret, I use it too…  I am a chronic misspeller (is that a real word?) of the word receive, you just never know it because spell check saves my bacon….  I used the book today when I couldn't remember if independence finished with –dence, or –dance.
Each See-N-Spell™ bookletalso comes with a See-N-Read® reading tool.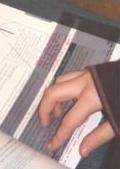 We love the See~n~Read.  We have been using it since last year, and it is such a help when we are reading small print or things from research books.  It really helps Hunter stay focused.

The See~n~Spell Booklet retails for $9.99, a fair price for the ability to have over 300 words at your fingertips.  It was created for use with those in grade 4 – Adult, and in our home, that has proven very true.  Nearly everyday you hear… "Mommmmm!, where is that spell book thing……???"  as someone scrambles to spell something correctly.
Please make sure you visit the See~n~Read website to find out more about their reading tools
To read what other Crew Members are saying about this product, visit The Old Schoolhouse Magazine's Homeschool Crew Blog.