Anyone Hungry?
Doesn't that look good? This is just one of the side dishes that you could be preparing for your family, with e-mealz, the menu plan option for busy and frugal people.
In case that isn't tantalizing enough here are a few more pictures of the meals we made with this affordable, easy to use menu planning service.
We enjoyed Quiche, Pizza, Orange Chicken, Mexican Casserole, Meatloaf, Fish n' Chips, Italian Sandwiches, Chicken and Cannellini Soup……… The list goes on and on!
All that variety, without digging through 40 cookbooks, and spending 3 hours planning a menu (I prefer a monthly one) and making a shopping list……. and then finally going to the store to shop for it all. I suppose I should let you in on a little known fact about me. I love to cook but hate to shop (hate it with the passion displayed by Rocky as he screams, ADRIENNE!!!!, yeah I hate to shop that bad.) Combine my aversion to shopping with the time needed to make a menu plan…. and you have a girl who will even choose to fold laundry over sitting down to plan a month's worth of meals, and we really shouldn't even begin to talk about my laundry issues…….
So what is a girl who likes to cook but hates to plan it, supposed to do? Normally, I just go to the store and shop for the basic staple items, toss a few things into the cart that I have found inspirational as I trolled the isles, and I come home with food for about 2-4 weeks worth of meals. Even though I hate to shop, when I do it, it lasts me for more than 7 days. The other thing I am a stickler for is FRESH, whole. real. food. I am a near expert on keeping veggies from going bad in the fridge so what I buy really does last. Most of my shopping is done on the outer circle of the store, from local farmers markets and farms, and we also grow a garden. When we were given the opportunity to review e-mealz, I was interested to see if it would be more cost effective than my current method of shopping, would the meals be easy and quick to prepare, and most importantly, would even my pickiest of eaters eat the food.
My only criticism, and it was echoed by my husband, was that many of the side dishes relied on boxed or processed foods. Are they cheaper than eating out? yes. Are they still healthy choices for this family? No. To that end, I often substituted. The main meal was still delicious, we just didn't get the boxed mac n' cheese or the frozen potatoes, chips or frozen bread that was on the list. I just exchanged as I went. My husband's main criticism was that many of the first meals we ate were rice heavy. This changed as we experienced more menus, but for the first two weeks he was wondering if he should turn part of the yard into a rice patty to help supply all the rice we were eating
Past that, he deemed the food, "pretty tasty".
E-mealz does a great job trying to tailor your menu to exactly where you might shop, taking advantage of whatever weekly specials the store might be having, saving you money and time. They offer plans for Kroger, Wal-Mart, Publix, ALDI and Ralphs. I only live where there is a Wal-Mart, and I personally do not enjoy their selection of produce, so for our review……… we chose to prepare meals from the ANY STORE PLAN.
The ANY STORE PLAN is 7 meals, that feed 4-6 people, and helps you take advantage of the store with the best prices in your area, and in my town, that is NOT Wal-Mart! All of the ingredients are easily found in stores and tend to be the items that cost less over all, such as burger, sausages, pot-roast, chicken……. those sorts of meats.
As we worked through the menus we often substituted cuts of meat for those we already had in the freezer. We purchase 1/2 a side of beef and pork at the same time, we also eat pasture raised poultry, so if a recipe called for chicken breasts, in our home it was often made with a whole chicken. This substitution didn't affect the recipe's at all. I would also go through all of the fresh produce that was needed for the meals and check off the ones I could get out of my garden. My menus that were taken to the store were a crossed out messy nightmare of things with the word "have" next to them or stars and check marks that indicated it was pretty important to the recipe and I needed to get that specific thing. I also noted any changes we may want to make the next time we make the meal.
Based on the ANY STORE plan, I think their weekly menus are price comparable to what I would normally spend. With our substitutions, and feeding 6-10 people, we usually spent about 50 dollars a week on the e-mealz, because we are a bigger family. On the weeks that I shopped exclusively for e-mealz dinners, and our regular Lunch and Breakfast Foods, we spent between $100-125. Which isn't too bad for a family of 6 that often entertains and feeds extra people.
E-mealz met my expectations of being easy to prepare, cost effective, and feeding the picky eater (I have 1 and he ate all the meals!). Even though I really enjoyed the whole click and print, no-brainer part of the program, I am not 100% sure I would renew my subscription when it is over. As much as I whine, I really like my once a month shopping. I don't like going every week. Maybe I will just save up a months worth of e-mealz menu's and go once a month. For this busy homeschooling family, having a plan, even one I might whine about, is essential. If you don't have a meal plan already, you need e-mealz on your team.
I would recommend e-mealz for new brides or families that have just had a baby. Did you know they have gift certificate options? This would be a great kitchen tool for a new bride who may not know how to cook and a wonderful timesaver for new mom's and dad's. For busy single mom's, or a busy family with lots of activities, e-mealz is worth the investment. You just print out the PDF menu, it comes with a shopping list, and hit the store. In under an hour you will have 7 meals that take less than a half hour to prepare, and you family can save money, and remember what conversation and laughter around the dinner table was like. I was able to save my menus to my computer so if there were some great favorites that week all I need to do is look them up and print them out.

$5.00 a month (billed quarterly) is NOT too much to pay if you are on the go and need some help getting good meals on the table for your family. This service is for every mom who has opened the cupboard at 3 p.m. and wondered what in the world she is going to make for dinner. Using e-mealz, you will KNOW what is for dinner and be prepared to get it done!
Make sure you check out all of their Low Carb, Vegetarian, Gluten Free, and Portion Control Plans. Going on Vacation and need to feed a crowd? They have one time purchase menus for meeting the eating needs of vacation groups of 12 and 24. Are you empty nesters? Don't worry, there are plans for your sized family too!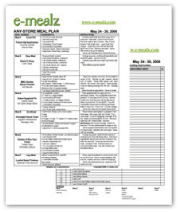 Check out e-mealz.com today and see if there is a meal time makeover plan that will fit your budget and help you to bring the family back to the dinner table. Maybe hop by their blog and see if they have a new recipe or a great coupon, or just some kitchen inspiration.
Many families tested out various Menu Plans from the e-mealz selections. Please take the time to read their experiences at the TOS Homeschool Crew page.
Happy Eating!,
******disclaimer a.k.a. the legal mumbo-jumbo*******
As a member of the TOS Homeschool Review Crew, I was given access to e-mealz.com for 3 months, free of charge, solely for the purpose of this review. NO other compensation was received, and I am not obligated to furnish a positive review. All of the above opinions and experiences are those of this family as we used this product.