The majority of this review was completed by my 17 year old daughter. She is a VERY busy girl and I am very grateful to her for taking the time to use and write about her experience with Wealthquest for Teens.
******************

I am not really the most normal of teenagers. I have never been one of those kids who sit around and wait for things to happen. I have goals, and I know I need money to help me accomplish those goals. One of the problems I have is getting the money. I am only 17 and I attend community college pretty much full time. I also have responsibilities at church and at home, so my ability to have a "normal" part time job doesn't really work out for me. That doesn't mean that I never have any money. I do work all summer long at a farmers market, I clean house for a woman at church and I babysit. While my jobs aren't at a fast food restaurant or a coffee shop, God always provides the work, so that I can pay for the things I need.
This summer I had asked my parents if I could read some of their books on money and budgeting, and not long after that my mom told me we were selected to review Wealthquest for Teens. I was excited to start the program and see if there was information that I could learn to help make my money work for me. I really liked having video lessons. Each lesson was interactive ( they used teens to teach introduce new concepts) and easy to relate to. I had a bit of trouble understanding that the e-book pdf WAS the workbook at first, but after that initial confusion it was very easy to do. It was nice that the lessons gave me time to fill out the worksheets as we went along.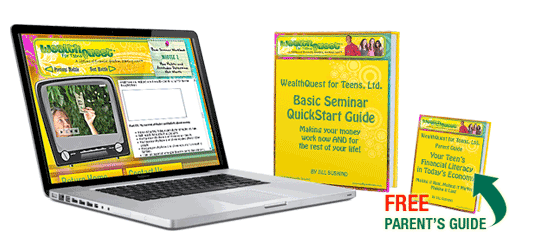 Wealthquest did give me new information on how to organize my money. I have a different attitude about money from watching these lessons. Because my income is not that regular, I am often concerned about money and how I can make money that I need. These lessons showed me that I don't really need to worry, I just need to remain diligent and determined to make my financial goals a reality. I was reminded that finding creative ways to make to make money is a good thing. Money never just drops into peoples laps!
The lessons talked about needing a really good reason to save money. This is the lesson where I was really able to identify my goal of attending and graduating from college debt free. This goal is very important to me and it is the main reason that I work right now. Even now I pay my way through school.
The program teaches a method called the silo system to organize your income. With my above stated goals, I found using the silo system as recommended, difficult. The program recommends the following categories: Future Financial Freedom, Big Ticket Items ( like cars, vacations), Heal The World ( Charitable giving), Necessities ( Clothes, fuel, food….ect.), Learning ( education and growth ), Fun and Fun Money. They recommend 10 percent to be placed in every category but Necessities, and that category will receive 50 % of your income.
If I were to use those recommendations, I would only be able to use 20% of my earnings on my education. Since my main needs are met through my family's household budget, I decided I needed to have three silos. Learning, Necessities, and Big Ticket items. My percentage breakdown was 70% to learning, 10 percent to saving for my car, and 20 percent to my away from home food and incidental needs. I found it much easier to use the silo system as a mid-long term savings program. I need to be able to work, set the money in a easy to access saving location so it is free to be used for each quarter's tuition and books. I did find the link to the money management site helpful. I could hypothetically move larger sums of money around and see how the cause and dream a little about what the future could look like. As I move into a 4 year college, I see myself better able to apply the system in its entirety as my income increases.
Jill Suskind, creator of the program, lists the following as a course goal: The intention of the program is to empower teenagers with habits and attitudes about money that lead to wealth. Wealth and being rich, in WealthQuest for Teens terms, means "the amount of money you need to have the life you want and to make a difference in ways that matter to you." Taking this course helped me identify the amount of money I need to achieve my goal of attending college debt free. That is what I want for my life, that is what matters to me. This will help me make a difference in other people's lives because I will not have a ton of debt when I am finished with school.
***************************
When I asked her if she would recommend this product, she stated "Yes, I would, especially for those who really have little or no experience with controlling their own their own money… I think if a high schooler is going to have a part time job, and not going to be enrolled in college at the same time this system would be a good way for them to organize and save their money for college and beyond."
As a parent, I was glad that the course was fairly self sufficient. The parent book that was provided was easy to read and helped me to set the tone of the lessons. She worked at her own pace, and completed the lessons. As she completed the lessons we would discuss the topics and she would run ideas past me to see if they were logical as well as practical. It was then that i could drop in some of the nuggets of wisdom from the parent guide. We have an open money discussion policy in our home. We do not live on any sort of credit, and save for the things we purchase. Reading through the guide helped to reassure me that we were on the right track as parents, in openly communicating about our household finances.
Wealthquest for Teens is available for $39.95, a very affordable option for use with your 14-19 year old(s). The course is comprised of a Video Seminar, Student Workbook, a link to an online money management program, and Free Parent Guide. The product is downloadable and easy to print and use with more than one student.
To read more reviews about Wealthquest for Teens follow the link below.

*******Disclaimer********
We were given access to Wealthquest for Teens Video Seminar, online money management site, Student Workbook, and Parent Guide, free of charge and for the sole purpose of writing a review.