This…….. and other crazy songs…..  were invented by the Coney Clan as we played Wits and Wagers Family.
I will start at the beginning…. because I know you are dying to know what a Meeple is.  Well, either you are dying to know or you think I have lost my mind, along with any and all abilities to spell correctly; either way, I am still going to tell you….   Meeples are the action pieces in this fast paced game for the whole family, created by North Star Games. They have been migrating across the Atlantic since 2000, and North Star Games is happy to facilitate this migration by placing them in many of their own games.
From the moment the game box was ripped open in eager anticipation………
through the intense suspense of waiting for the answer to be revealed……..
Every one was involved, engaged, and enjoying themselves around the kitchen table. They say the game is for ages 8 and up….  but as you can see, 4 year olds love it too!
The best part about the game is that you don't have to know ANYTHING at all to play it. Nothing.  Nada.  Zip.  Zilch.  Zero…… The object is to be the best guesser. (is that a word?)  We all learned quickly in our house that Big Daddy was the best guesser and if you want half a chance, you put your Meeples down on his card.
There is even room to be creative with your answers…..
The only trouble we had when playing was getting people to decide on a card for their Meeple to stand on.  Some rounds, ……some people, who shall remain nameless, ….. TOOK…… FOREVER!!!!!!!!!!!!!!!!!!!
So…….. we made up a song as our timer.  "Meeples, Meeples,….set down your Peeples… Meeples, Meeples, set down your Peeps…. "  and we would sing it two times through….  If you couldn't pick a spot by then….  well, tough, your Meeple got grounded.
Feel free to borrow my musical genius when playing Wits and Wagers with your own Family, and use my catchy tune as your Meeple timer. 
  Call me,  I will sing it to ya…..
You can find Wits and Wagers Family at your local Target or Barnes and Noble Stores, or use this Locator Page to find a retailer near you.  Retail prices will vary so make sure you shop around and check online for a price that best fits your family's budget.  There are expansion packs and other great games created by North Star, so be sure to visit their website to see all they have to offer   http://www.northstargames.com/North_Star_Games/Home.html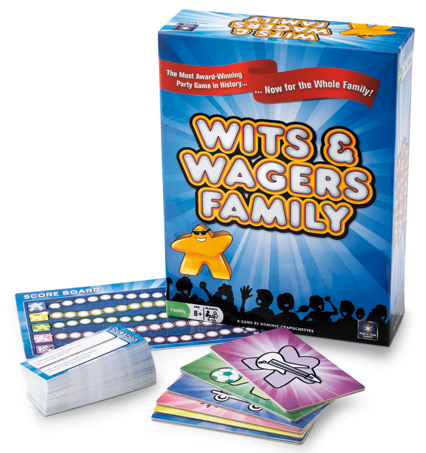 Our experience with this game can be summed up by my oldest son….
Which is saying a lot since he barely scores 3 points every time we play. 
Check out the 100 or so other reviews on this great game over at the TOS Homeschool Crew Blog.  I am headed there now to see how everyone else played at their house.
***disclaimer***
As a TOS Homeschool Crew Member, I received Wits and Wagers Family, free of charge, for the purpose of this review.  No other compensation was received.  All of the opinions stated above are those of our family as we used this game for fun and frivolity.  Thank you North Star Games for your generosity.