Founded in 2007 by a Canadian Mom, Griddly Games states : "Our philosophy is to offer games that encourage social interaction, learning, strategy and challenges that anyone can enjoy."
Early in August we received their Wise Alec Game, Civilize This! to review. This game really makes history fun.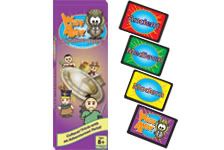 Created for children ages 8 and up, and for 2-4 players, we found our family pushed the envelope. We had our 4 year old play along with us, and we had no trouble playing with 6 players. The game contains 4 decks of cards and a colored die. You roll the die to see what cards you will answer questions from. Each card contains an easy question and a harder one. You answer questions about Ancient, Modern and Medieval time periods.
Our favorite deck was the Wise Alec deck. These cards were great for family members of ALL ages to participate with. You will find yourselves marching, saluting, speaking in accents, doing pushups, and pretty much laughing until you can hardly breathe.
This is a stand alone travel game or can be used as an expansion set for the Wise Alec Trivia game.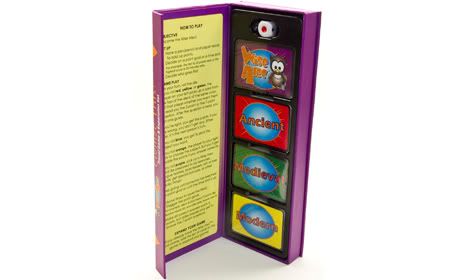 Point values are assigned to answers on the history cards, and for the actions on the Wise Alec cards. The game suggests playing for a certain point value, yet we found it easier to play until a timer ran out. It kept the games from going on too long and kept the younger children engaged.
I will tell you, this game exposed exactly how much or how LITTLE we knew in certain areas of history. As a teacher/mom I was able to see what areas we should go back and review! You don't need to be a homeschooling family to receive benefit from this game. If your children attend school outside the home and you want to help them brush up on their history facts, this is a great way to sneak learning in!
We were not able to be as competitive with this game as we have been with others. This was borne from the fact that the majority of family members were stumped as we played the game. Still, everyone was eager to glean new bits of trivia each time we played. It is becoming much more of a school time game than a family fun game. I often use it now as a break from the History books, and a way to get all the kids learning together.
If you are interested in purchasing this game for your family; please visit the Where to Buy page of the Griddly Games Website. Prices may vary depending on where you purchase, but a common retail price seemed to be around $15.00.
Be sure to check out what other families have to say about this game and how it worked in their homes, by visiting the The Old Schoolhouse Homeschool Crew blog.
****disclaimer****
As an independent contractor with the TOS Homeschool Review Crew, I received a Civilize This! game free of charge. It was provided by Griddly Games solely for the purpose of this review. No other compensation has been received. I am under no obligation to furnish a positive review.