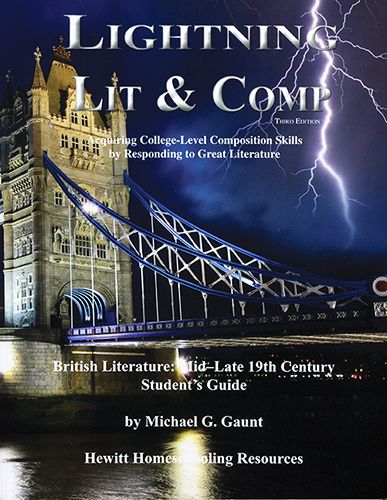 Great literature unfolds a page at a time….. and so should the lessons. I have thoroughly enjoyed using Lighting Literature & Composition ( recommended for grades 10-12) by Hewitt Homeschooling.
We were able to review their British literature: Mid-Late 19th Century Student Guide and Teacher's guide. We focused on the poetry section in Lesson 1 by Alfred Lord Tennyson, since many of the selections were included in the book. As I write to you we are in the midst of doing Lesson 2; reading Silas Marner by George Eliot.
The student text begins with a very healthy introduction, which I recommend you read. If nothing less, it will be a refresher of what you may have learned in your own literature studies and it will help you to brush up on your terms and how to apply them as you teach your student. Reading the Poetry section was especially helpful to me. College was a long time ago, I had forgotten things like Assonance ( the repetition of vowel sounds) and the section on Meter ( the measurable rhythm of the words) was a great help.
The introduction on writing a paper gives the student a clear and concise target to shoot for as the write. There are great guideline questions to help them self edit and re-write. My daughter found the pages on Fluidity of Language and Pronoun Confusion helpful. It helped her understand why some of her college professors were marking things differently than others as she had turned in her papers last year. I helped me as a parent to know how to better critique my younger students and offer assistance to them as I read what they write and prepare for college papers.
The Teachers Guide has a nicely organized schedules for you to use, both semester and weekly for a full year long course. There are grading tips and sheets, as well as all the answers to the comprehension questions throughout the student text. I will keep it real and let you know that I am very grateful for comprehension questions, especially where poetry is concerned. Some times I read through a poem and then say… " What? What did that just say?" and having the questions in the student text helped us through the poetry.
We are very much enjoying reading through Silas Marner…… we are reading it aloud and going through the discussion questions as a family. Discussing them as we meander through the summer, staying indoors to read and escape the near 110° heat. Even my younger children are learning the finer points of plots and sub plots and better understanding what a climax is within a story.
I look forward to continuing on using this literature guide through the summer. I think we will purchase the Early- Mid 19th Century book next! I would highly recommend this course to those who are looking for an affordable comprehensive High School Literature course. All the guides and books are available for $52.86. Just the Student and Teacher guide alone are available for $33.90.
Please take the time to read the other reviews on the many different products that Hewitt Homeschooling has to offer by clicking the link below.

******Disclaimer*******
As a member of the Schoolhouse Review Crew, I received Lightening Lit and Comp from Hewitt Homeschooling, free of charge, for the purpose of this review. No other compensation has been received.