Pearson Education has developed homeschool curriculum for students in Preschool through the 12th grade. You can find them on the web at PearsonHomeschool.com.
I was able to review their 4th grade edition of enVision Math. You can purchase a homeschool math bundle from them for 99.00 Each bundle contains a student text book, a CD ROM version of their teachers text book, and a Mind point Quiz Show CD. Please visit their website to see individual pricing.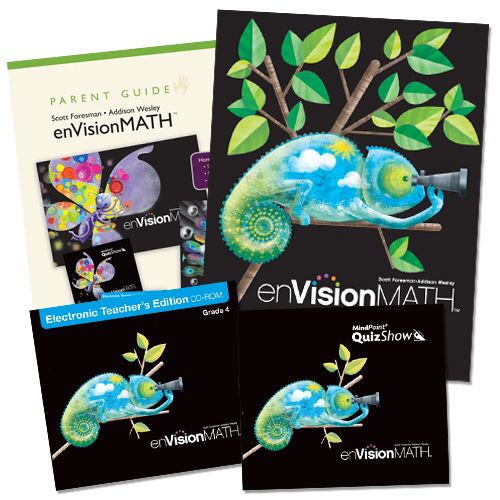 The student text is divided into twenty different teaching units, some of which include:
Multiplying by 2-digit numbers
Understanding fractions
Operations with decimals
Area and Perimeter
Transformations, Congruence, and Symmetry
Probability
My thoughts:
The work text is definitely a non-consumable product, it is not intended to be written in by the student. Your student will need to copy the questions onto a new piece of paper, which is not the end of the world, but it is time consuming.
I would have preferred to see more review of topics through out the book. It seems to me that a subject is introduced and covered and then moved on from.
Hunter wasn't too excited about the Quiz Show CD…… he did it the times I asked him to, but he didn't seem engaged with it to the point he asked to do it independently, and he usually likes most computer based games.
All in all, it is a text book. Just like they use in a brick and mortar school. If you are interested in making sure you are covering the material needed for a year of school, and you don't seem to need much review, then this math product might be a fit for your family.
While it was colorful, and easy enough to teach from. I just didn't feel like it had enough substance to it for concepts to be grasped through doing them more than a hand-full of times. Unfortunately, enVision Math was not a fit for our family.
Please take the time to read other Schoolhouse Review Crew Members have to say about this, and other products by Pearson Homeschool as you prepare for your upcoming school year.
****
disclaimer:
As a member of the Schoolhouse Review Crew, I was given the opportunity to review enVision Math 4. The product was provided free of charge expressly for the purpose of this review. All of the above opinions are a result of using this product in our homeschool. No other compensation has been received.