I just love. love. LOVE. Write Shop Junior.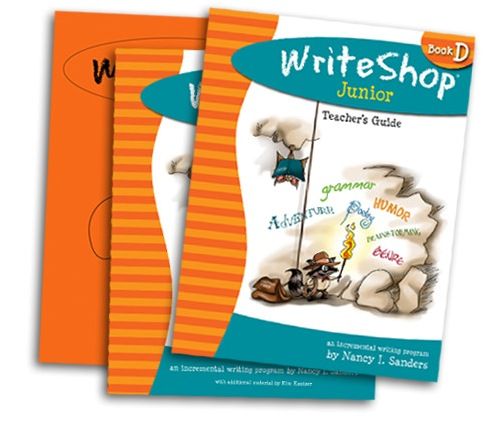 Every-so-often something comes along and you just know it was tailor-made for your child.  That is how I felt with WriteShop Junior, Book D.  This writing curriculum just clicked with our 4th grade son, Hunter.  It was easy to understand and prepare for, and easy to comprehend and learn from.  It instilled a sense of confidence in Hunter, who up until 6 weeks ago would have run from the table, as if on fire, if I had asked him to write a paragraph, let alone a page.
This curriculum was created for 3rd, 4th and the reluctant 5th grade writers in your family.  Lessons are clear and concise.  I never felt lost in the Teachers Book.  It was clear where to begin each day and what days of the week to cover the work on.  Each daily lesson is divided into 30 minutes segments to teach.  They are fully scripted to ensure I would cover all the bases.  Prep time would run me about 30 min to an hour (depending on how detailed I was), every two weeks.
The most time consuming portion of the program, for me, was setting up the Grammar Folders.  I did them all in one day, and it took several hours to get them trimmed, stapled, labeled and the bookmark portions laminated.  That said, Hunter loved those things, I had trouble keeping him from filling them all in at once!
The main stumbling block to Hunter's writing has been his spelling.  It is pretty bad.  He always seems to get papers handed back to him covered in corrections.  This has always been discouraging for him.  WriteShop Junior, Book D, involves him in his editing.  No longer am I the big, bad, evil, wielder of the red pen.  He starts each editing project out by looking for the excellent work he has done and this softens the blow when he starts with his red marker on those spelling mistakes.  With each lesson he spells a bit better each time.
After all the editing, he was so proud of his published papers, he would tell us all 6 kajillion times what each and every sticker signified on the finished product.
Thank you, WriteShop for revolutionizing writing in our home.
WriteShop Junior, Book D sells for $39.95, and included the student worksheets, and all the pages needed for the Grammar Folders.  The Teachers Guide is $34.95.  You will want the Teachers Guide, Trust me…. it is where all the teaching comes from, you would be lost without it. Another item, and it is listed as optional on the website….  but in my opinion is the biggest time saver in the world…  The Time Saver Pack.  It sells for $13.95 and it is worth every penny.  Printed on sturdy colored card stock, all you need to do is cut and use or poke and play…  No hunting for paper and hoping you have the ink.  It will dramatically reduce the prep time you will need before every lesson.
WriteShop has graciously offered up a discount to you if would like to purchase their curriculum before the start of the new school year.  To receive a 15% discount on WriteShop Primary, and WriteShop Junior products (including e-book versions) use the coupon code CREW15 at checkout.  This coupon is valid until June 15th 2012.
We reviewed the product in it's traditional print version, some of my fellow Crew Mates reviewed the e-version of WriteShop and share their opinions on our Crew Blog.  Be sure to stop by and read the reviews to see if there is a level of WriteShop that will work best for your family.
*****disclaimer*****
As a member of the TOS Homeschool Crew, I received a copy of WriteShop Junior, Book D, and the Time Saver Pack from the WriteShop, free of charge, solely for the purpose of this review.  I was in no way obligated to gush fervently about their product.  That happened naturally in the course of using it daily and seeing results with our student.  I don't receive any extra special stuff, or monetary compensation (rats!) for writing a nice review, just the satisfaction of a job well done, and the ability to keep an amazing product for our personal use.